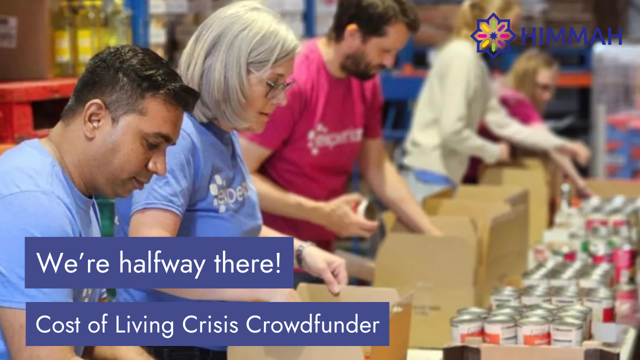 Great news, everyone. 
We're excited to announce that we're halfway to reaching our 5K crowdfunding goal to combat the rising cost of living crisis. A big thank you to all our generous donors—you're making a world of difference!
Your gift can go further:
Want to maximise the impact of your donation? Opt for Gift Aid! If you're a UK taxpayer, you can add Gift Aid at no extra cost to you. This means the government will add 25% on top of your donation. So, if you give £10, Himmah gets £12.50. The cost of living is climbing, but your kindness helps us keep everyone afloat. With your support, we continue to offer hot meals, distribute school supplies, and work toward a more equal and fair society. We're halfway there, but we still have a way to go. Share the crowdfunding page with friends and family, and let's cross the finish line together. Your generosity powers our mission. Let's tackle the crisis and build a better future for all.
Donate Now!
Click the "Donate Now" button and make a difference today. Every little bit helps, and with Gift Aid, it helps even more.
Thank you for standing with us.